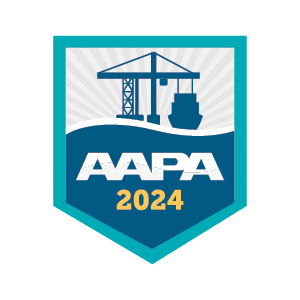 The premier event for the seaport industry!
The AAPA Annual Convention & Exposition is the premier gathering of port professionals, terminal operators, service providers, and supply chain partners.
Its leading-edge business program explores the latest trends, and its dynamic exhibit hall showcases innovation solutions.
Join us for this exclusive opportunity to connect with port professionals, transportation leaders, and maritime industry innovators to explore trends and discover solutions that empower ports, people, and businesses.
Find out why AAPA has distinguished itself as the Essential. Resilient. United leader of the maritime industry.
Ideally Located Along the Waterfront in the Seaport District.
Whether you're traveling far or planning the staycation of a lifetime, make it count at The Westin Boston Seaport District. A vibrant neighborhood in an iconic city, the Seaport District offers rich history, world-famous attractions, and hidden gems for those who want to take the path less traveled.
Westin Boston Seaport District
425 Summer Street Boston, MA 02210, US Tel: (617) 532-4600
Rooms are available at a discounted rate of $280.00 ++ per night.
You will only be able to secure your room at our negotiated group rate after registering for the program.
In Boston, we have it all. The city is rich in history with great dining and nightlife, extraordinary shopping, exciting sporting events, and vibrant arts and cultural community. With a mix of colonial charm and urban sophistication, Boston has been growing as a city for over 380 years.
Attendees are assured an outstanding event in Boston beginning with the ease of travel and extending to its world-class facilities and then on to its wealth of historic and cultural attractions.
Boston welcomes eighteen million visitors, convention delegates and business travelers each year. Have your event in Boston and you'll understand why this East Coast hub attracts millions of visitors each year. Learn more here.